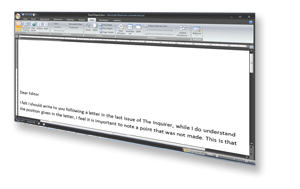 Letters should be signed with the writer's full name and, if applicable, the name of the group or congregation with which the writer is affiliated. A postal address and telephone number are required, for verification purposes.
Letters will be edited for length and content and may appear in an excerpted form. Any affiliations listed with letter writers' names are for identification purposes only, and should not suggest the view expressed is representative of that body.
Shorter letters are more likely to appear and less likely to be edited. Criticise ideas, not people. No personal attacks will be published.