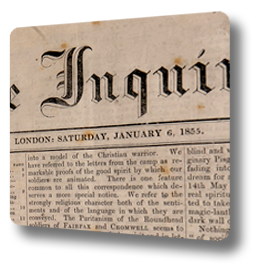 The Inquirer is the longest-lived non-conformist paper. Its first issue was published on 9 July 1842. It was founded, as a Unitarian Christian Newspaper, by Edward Hill, a rather shadowy figure who was probably not himself a Unitarian and who hoped for commercial success. It was then, and for many years, published weekly. The cover price was 6d – the equivalent perhaps of £10 today.
Curiously it was not the first paper to bear its name. Another Inquirer, published by a group of Quakers bent on defending the literal truth of the Bible, first saw print on 1 January 1838 but had evidently failed by 1842. The choice of name for the very different, theologically free-thinking Unitarian paper may have been no more than a coincidence but it is certainly ironic.
In fact The Inquirer itself has never been a profitable concern. It has remained in print rather because of the generosity of those who regarded – and still regard – it as an important organ for the Unitarian movement. Hill gave it up almost immediately. It was bought by Richard Taylor, a radical Unitarian who, inter alia, supported the Chartists. He, too, swiftly relinquished it. It passed through further proprietors until their losses became so pressing that in 1885 The Inquirer Publishing Company was formed to take it over. The purchase of shares (shareholders have never received a dividend) brought in some funds and a subvention fund, formed in the 1890s, has continued to bring in a little more. Grants from the General Assembly of Unitarian and Free Christian Churches have also been important in keeping the paper afloat. As a cost-saving measure, it has been issued on a fortnightly, instead of weekly, basis since 8 January 1972.
In 2003 the original Company was struck off and its successor, The Inquirer Publishing Company (2004) was registered as a private company limited by guarantee on 13 November 2003. It is also a registered charity.
In its 163 years, The Inquirer has had twenty editors, many of them also Unitarian ministers. The first, the Rev William Hincks, went on to be Professor of Natural History at Cork and then Toronto. The position was held for the longest period, from 1855 to 1888, by the Rev Thomas Lethbridge Marshall. The first woman editor, between 1927 and 1932, was Laura Ackroyd. With the exception of Gavin Walker, who is a Quaker and edited the paper for a time between 2003 – 2005, all the editors have been Unitarians.
Whilst always reflecting a liberal theological outlook, the content of The Inquirer has otherwise been very varied. In its early years – before the boom in the newspaper industry – it carried foreign, City, and political news. Walter Bagehot, author of The English Constitution (1867) was a contributor in the 1850s. In the second half of the 19 century it joined in some of the great social, political and religious debates – on ritualism, for example, or calls to abolish the Church rate. Some editors have chosen to include book reviews and poetry or prayers and other worship material. Social justice is a recurring theme: in recent times, it has defended same-sex partnerships, raised the issue of violence against women, and, later, supported campaigns to make poverty history and for fair trade. Photographs were first included in 1921. In the past editors had an office. For some time this was at Dr Williams's Library. Subsequently it was in the Unitarian headquarters building, Essex Hall. Since 1981, capitalising increasingly on developments in information technology, the paper has been created in its editors' homes.
Drawn from The Inquirer: A History and Tradition, by Alan Ruston (1993) with additional information from the Reverend Keith Gilley.